New to CrossFit?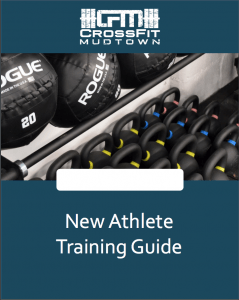 This is your first step. OnRamp is our introductory program designed to familiarize participants with the movements and intensity of CrossFit and set them up for success prior to entering our general group classes (click on the New Athlete Training Guide to the right to see full program outline). Participants are educated on CrossFit methodology and will physically learn proper form and technique for many common movements seen in group classes.
Our OnRamp program consists of a *minimum of 5 one-on-one personal training sessions with each one lasting approximately 60-75 minutes. Sessions are conducted on a mutually agreed upon schedule until all required sessions are complete (typically over a two week period). For those completely new to CrossFit, completion of the OnRamp program is required to participate in regular group classes.
*Depending on a participant's skill/fitness level, additional personal training sessions may be required.
Why personal training to get started?
Group classes are more effective for the coach, you, and the experienced members when a proper fundamentals program is implemented before you are released to join a group class. Our mission is to serve clients who are open to a long-term professional relationship with a coach, to help manage their health, well-being, and fitness for life. Building a foundation of trust and knowledge in a one-on-one setting sets you up for success far better than throwing you to the wolves and hoping for the best.
Ready to get started?
5 OnRamp personal training sessions + 1 week unlimited group classes - $250
Small Group Rates (max of 4 students, includes one week of free classes):
2 - 4 students = $200/person
Schedule
a complimentary consultation to chat with one of our coaches about you're goals and how we can help you start building the road to success.
×