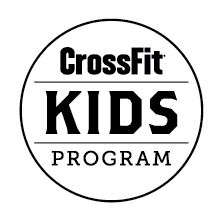 CrossFit Kids is a method for teaching Greg Glassman's CrossFit to children ages 3-18. Based on the principle of Mechanics, Consistency and then Intensity, CrossFit Kids emphasizes good movement throughout childhood and adolescence. Consistently good mechanics translates to physical literacy, enhanced sports performance and fewer sports injuries for kids. Not only that, a vast body of research indicates that exercise is beneficial to cognitive function, which means consistent adherence to the program can have a positive impact on children's academic achievement.
CrossFit Kids is meant to be BIG fun for all ages. Broad-Inclusive-General fun. Fun means we provide an active alternative to sedentary pursuits, which means less childhood obesity and all-around better health for our children. Further, the needs of second graders and high-school varsity wrestlers differ by degree and not kind; the program is scalable for any age or experience level and accounts for the varied maturation status one can find in a class full of kids. CrossFit Kids is designed to be minimalist; it is inexpensive and often requires little or no equipment, allowing a wide array of socioeconomic groups an opportunity to be physically fit and physically active throughout their lives.
CrossFit Mudtown is a licensed CrossFit Kids affiliate with properly trained coaches excited to work with your kids.
__________________________________________________________________________________________________________________________________________________
Class Structure:
Classes are 45 minutes in length and geared towards kids ranging from Kindergarten to 5th Grade. Each class includes a warm-up, a skill of the day and a game. Though these classes are in a group format, your unique child will be challenged on an individual level with all the benefits of a group environment.
Class Schedule:
Wednesdays 3:15-4:00pm
A minimum of 5 kids per session is required. Parents will be notified and reimbursed if we do not meet the minimal requirement.
**Note: There are no make-up classes. Classes will be held at Meadowlawn Park in Cahaba Heights. In the event of inclement weather, classes will be held at CrossFit Mudtown (4125 Autumn Lane Vestavia Hills, AL 35243). Parents will be notified the night before if we plan to relocate the class due to weather.
Payment Plans:
Single Visit/Drop-In… $10
**Family Discount: $8 for each sibling (email [email protected] to receive this discount)
There are no contract requirements for kids. Refunds will not be issued if you register your child for a class, but are unable to make your reservation. Please feel free to contact us if you have a special circumstance that bears consideration.
Click here or hit the "Drop In" button on the top right of our website's home screen to register. Email [email protected] for help registering.