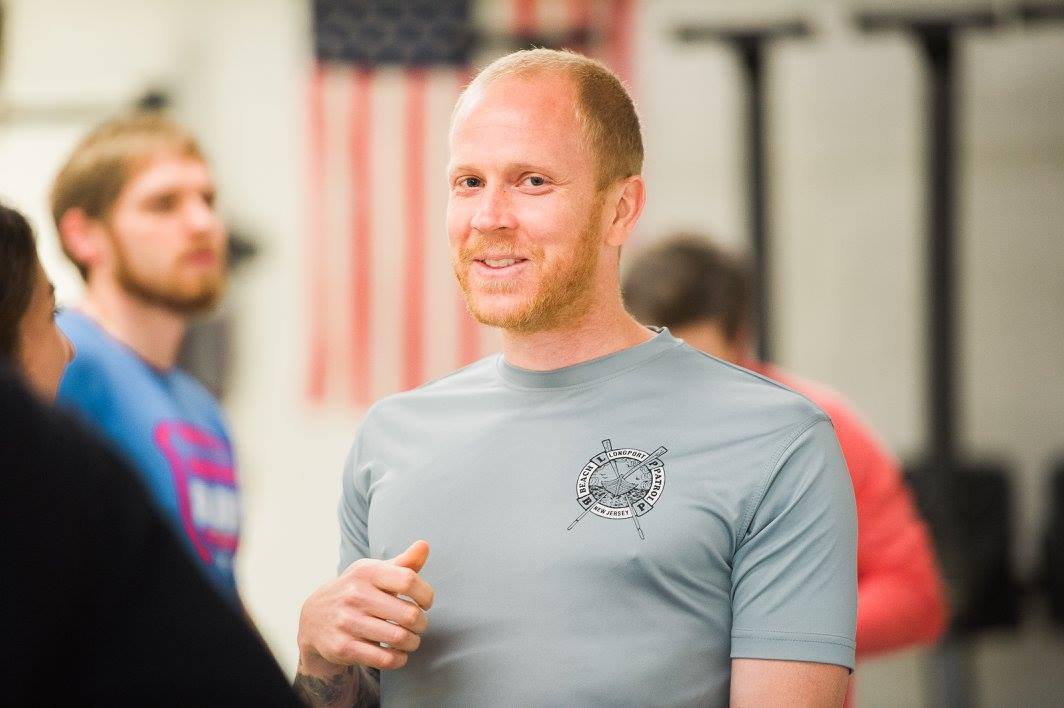 (Foreward from Coach Billy)
Kevin is one of the most dedicated & hardworking people I know. His current goal is to win the World Championships of the Spartan Race… in December of 2018. This has been his goal since I have known him. He's worked hard to develop a training plan that lays out exactly what he will do for the next 2 years. That's pretty incredible if you sit back and think about it. Massive goal, long timeline, meticulously planned.
This is how Kevin approaches most things, even what he is going to eat on the weekends. "There is a chance I'm going to attempt to break a cheeseburger eating contest tomorrow if you want to join." Every time I travel to a new city he suggests some non-paleo thing he wants me to feast on. "In Columbus? You have to go to Jeni's Ice Cream."
He's also one of the kindest and most loyal people I have ever met, and a real straight shooter. What he says, he does. What he commits to and believes in, he stands behind. It's been a real pleasure having Kevin in our gym. We've certainly taught him some things, but he's taught me a lot about what loyalty and commitment really mean.
Spend some time with him if you haven't. He's good for a laugh, some trash talking, and great stories about France, and food, and more.
Member since: May 2016
What do you do for a living? I am an Applied Market Research Analyst for Regions. Translation: I analyze real estate trends.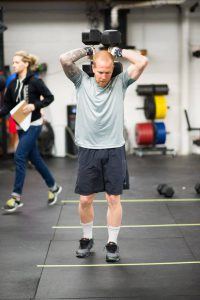 How did you hear about CrossFit and what was your first workout? I cannot recall my very first CrossFit workout, but it was in the spring of 2005. One of my high school soccer teammates forced me to join him in the high school weight room. I was not a fan and took a 4 year break after that. I was re-introduced to it in the fall of 2009.
How many days do you CrossFit? What classes do you normally attend? Over the past 8 years, the number of classes I have attended have varied greatly. Depending upon what my fitness goals are, I let that determine the number of classes I attend. You can normally find me at the 6pm class as I am the backup demonstrator when Hank blows it.
Favorite CrossFit movement/workout? My favorite movement is the Turkish Get Up. I would say my favorite workout is the 2k row for time. If done properly, it is an enlightening workout. My advice is simply; do not slow down.
Least favorite CrossFit movement/workout? I will never, ever inch worm all the way across the gym. I just do not do it. Another movement I really disliked was the overhead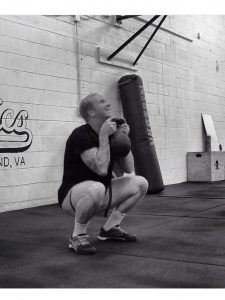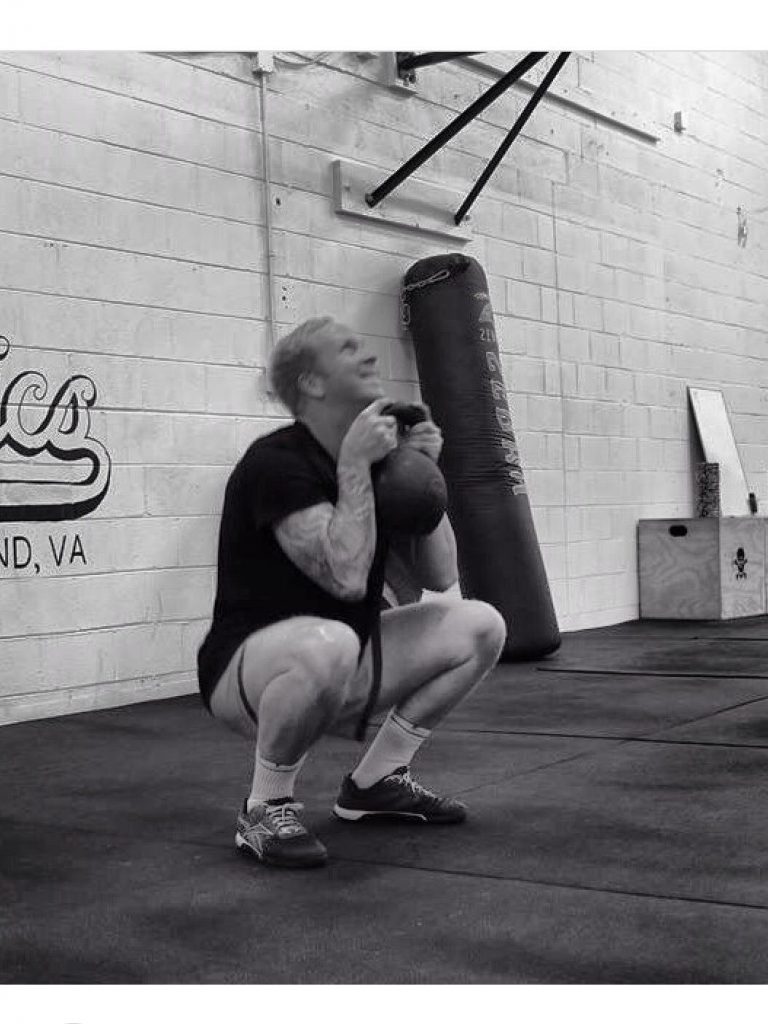 squat. BUT then decided I was going to do it often enough that I would like it. I plan to continue in that method of thinking for the rest of my life. (except for the inch worm)
What motivates you/keeps you coming back to CrossFit Mudtown? I am incredibly self-motived; however, I have thoroughly enjoyed the programming at Mudtown. Of all the gyms I have ever been a part of, it is by far the best. It is not even close. Such great programming allows me to focus simply on working hard. I know that if I do that, I will undoubtedly wake up fitter.
Most embarrassing/funniest gym moment? My most embarrassing gym moment involves a swiss ball and dumbbells. I attempted some dumbbell bench press on the swiss ball and rolled off the back tossing the dumbbells. In terms of Mudtown, showing up in stages of being more and more injured would be the most embarrassing. Zero fractured ankles, one fractured ankle, and then two fractured ankles all within a 3-week period.
Favorite thing about Birmingham? The food and the weather has been quite pleasant.
What accomplishment are you most proud of (outside and inside of the gym)? I have made tremendous strides in being more aware of what my brain/mind is up to. I now focus on what I can control and filter everything else out because it does not matter. This has helped professionally and personally as well.
What is your favorite meal? Doughnuts, which will always be my number one… However, recently I have wanted some form of Mexican no matter the time of day. Burritos, tacos, chips, queso… you know the rest. Churros.
What are some of your interests outside of CrossFit? Since moving to Birmingham I have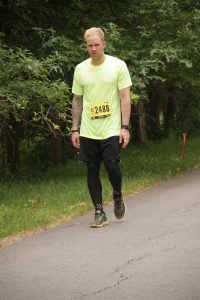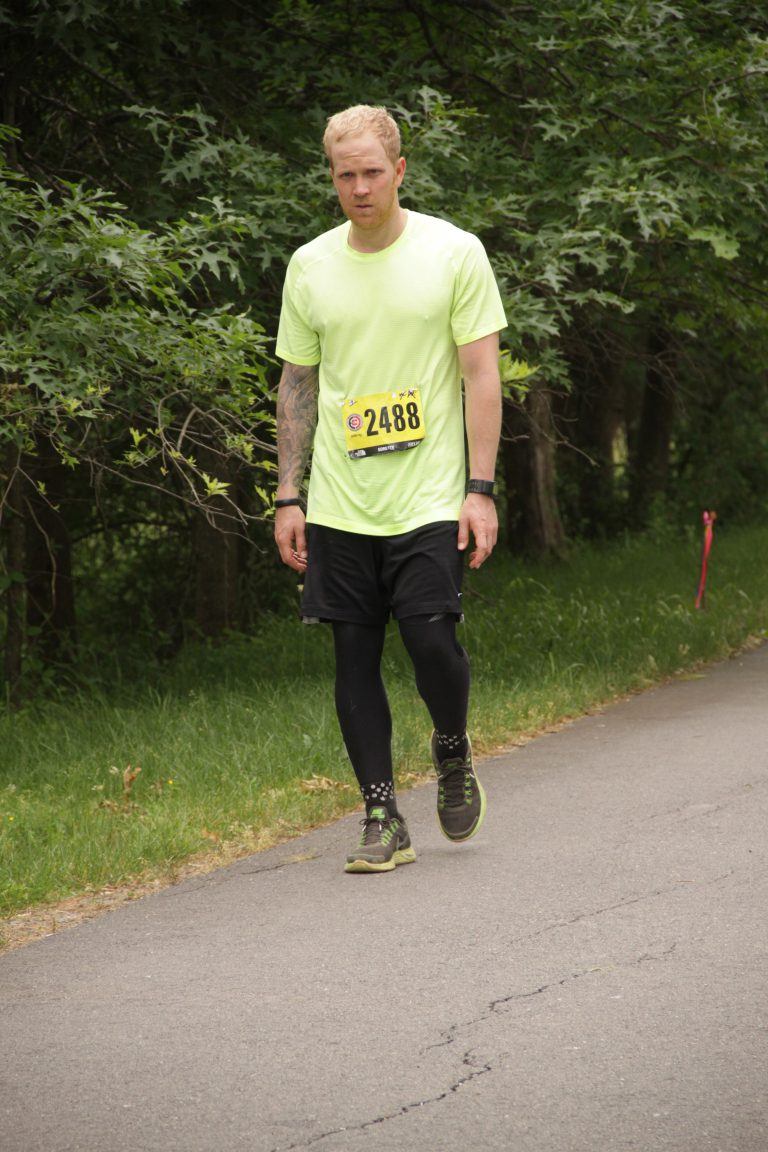 gotten into indoor climbing. It has been a great experience providing me with a new challenge. In terms of things I enjoy doing that are not exercise related, I love to travel and cook. I also enjoy movies. I wish I could read more, but I fall asleep and re-read the same page about 10 times.
What is one goal that you are currently working on? I have made a few short-term goals, one of which is to win a mile road race which takes place on July 4th of this year. I have never finished better than 3rd, but this is my year.
Do you have a hidden talent? Everyone seems to be most surprised that prior to attending grad school I was training to be a sushi chef.
Tell us a fun/interesting fact not many people know about you. I drank my first cup of coffee in January.