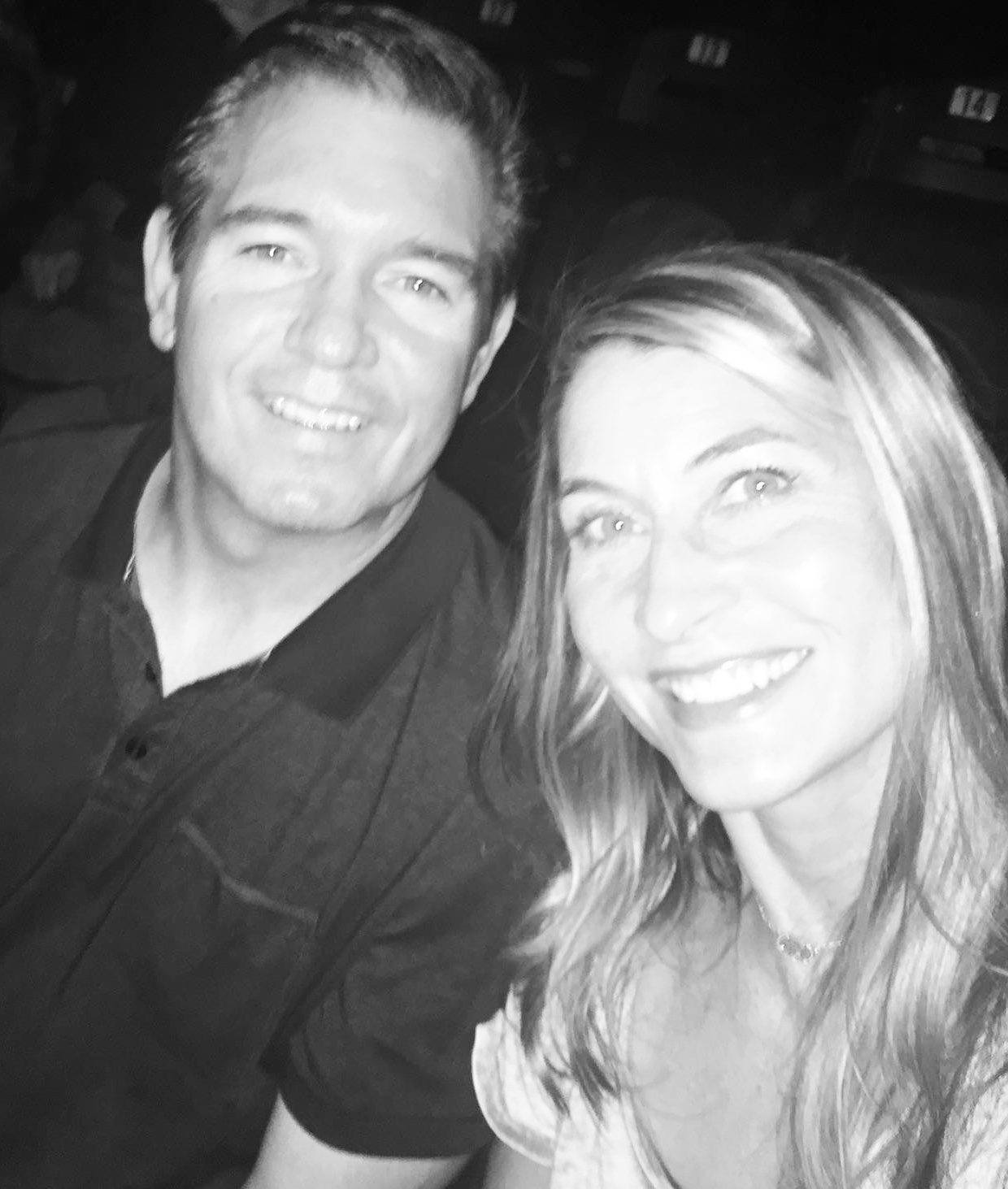 November is a time to focus on gratitude. Though we should make it a priority every day, we start to think about it more with the Thanksgiving holiday approaching. We sure are grateful for these two. George and his lovely bride Donna are a gem to this gym community. We all look up to George and Donna. They have so many attributes we all can aspire to; capable because they don't let age get in the way of trying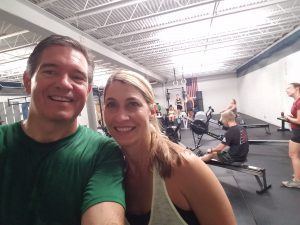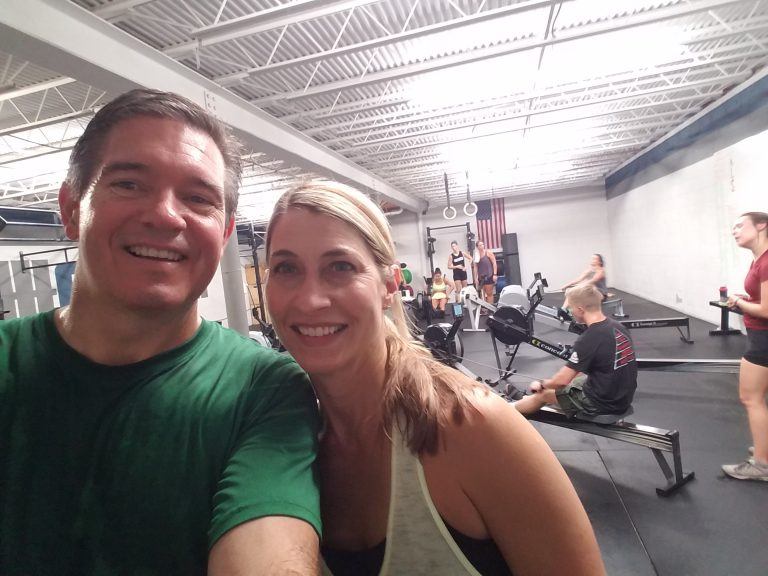 something new and uncomfortable; amiable because they are warm and kind to everyone they meet; supportive, of each other and their fellow gym mates. We could go on, but we know you need to get on with your day. George is coming up on his two year anniversary with CrossFit Mudtown and Donna is just over a year in. We are so proud of their progress and can't wait to see what the future holds for them.
Member since:
Donna: August 2016
George: January 2016
What do you do for a living?
D: I teach Environmental Science at Spain Park High School
G: I manage a small pest control company for Wayne's Environmental Services.
How did you hear about CrossFit and what was your first workout?
D: George tried for months to talk me into coming, and I finally gave in. My first workout was "Fight Gone Bad". I almost didn't come back.
G: My 50th birthday was in December of 2015. I told Donna that I wanted to get back in shape and become healthy. I had seen the "crazy" crossfitters running down the road and was intrigued. I was looking for a gym close to my house. My first workout (run 200m, 15-12-9 sq-pu-su, 200 meters). It took me 7mins and 44 seconds. Halfway through the workout I thought I had made a big mistake (joining CrossFit). I hurt so bad-I couldn't talk afterward- honestly. (By the way- my first onramp class was on January 11th 2016 at 7pm. I'm a big Bama fan. The kickoff of the National Championship game Bama vs Clemson was at 7:15pm. It was a test – thank goodness for DVR's. I had to ignore my phone as I watched the game delayed.)
How many days do you CrossFit? What classes do you normally attend?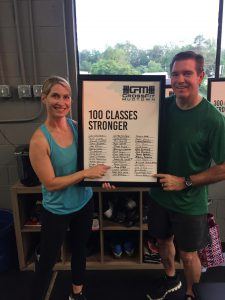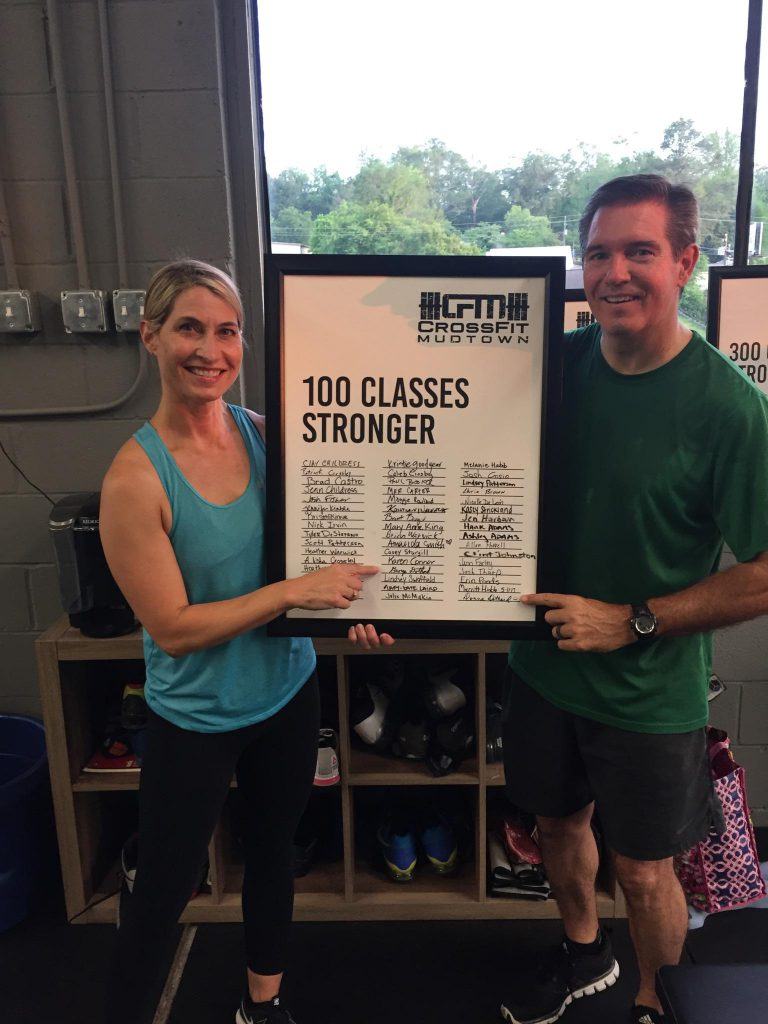 D: 3 days a week to the 6:30pm class
G: 3 days per week. Usually 6:30pm.
Favorite CrossFit movement/workout?
D: I like back squats and dead lifts. Doesn't everybody like those? 🙂
G: I really don't have a favorite movement- although there are some movements that I dislike less than others. I seem to semi-enjoy deadlifts.
Least favorite CrossFit movement/workout?
D: I hate double-unders because I can't do them at all and can't imagine a day when I'll be able to do them.
G: Anything over my head. Overhead squats, snatch, jerk, wall balls etc.
What motivates you/keeps you coming back to CrossFit Mudtown?
D: I love seeing the people and working out with my buddies. I love all of my coaches! You guys are the GREATEST!!! I also have numerous chronic back issues, but I feel better than I have felt in decades really.
G:After the first month of crossfit-I lost weight, my clothes started fitting better, I slept better and I physically felt better. I began looking forward to working out and also looked forward to that feeling of accomplishment I was getting after the workout. The gym family at Mudtown is outstanding. We love the fellowship and comradery we get and have made many great new friends.
Favorite thing about Birmingham?
D: Birmingham is big enough without being TOO big of a city. I love living in Cahaba Heights!
G: Mild winters, southern hospitality
Most embarrassing/funniest gym moment?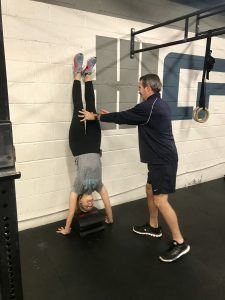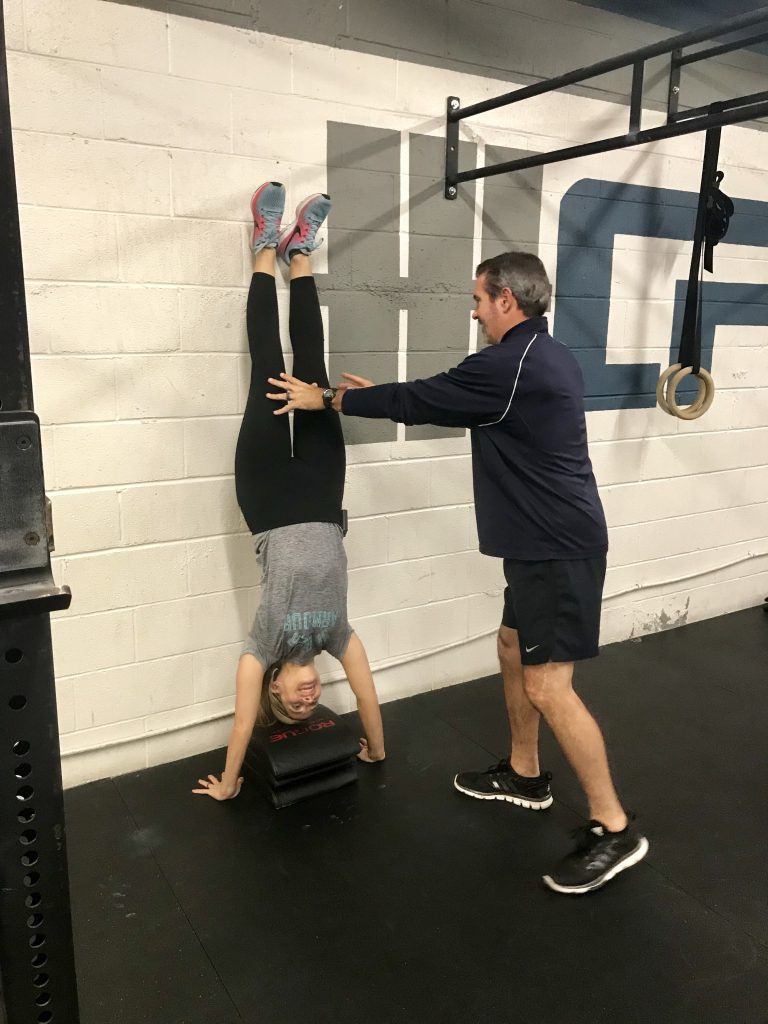 G: Maybe a month into CrossFit I was doing a workout of 3 rounds for time. After completing the first round(and just about dying) I thought I was done. So I yelled out loudly- "TIME!!!" Danny looked at me and said "Ahh- you have two more rounds to go." After the workout was over- somebody said " Who was the joker that yelled "TIME" really quick? I looked around at the crowd and said- ha, not sure who that was.
What accomplishment are you most proud of (outside and inside of the gym)?
D: Like most parents, we are most proud of our son Cole who is 18 and will be attending Auburn next fall. If I let him leave.
G: My beautiful wife and son- God has blessed me tremendously!
What is your favorite meal?
D: Unfortunately, chicken fettuccine alfredo. Very healthy stuff!!
G: Meatloaf and mashed potatoes w gravy and sweet tea (sorry Billy)
What are some of your interests outside of CrossFit?
D: I love the outdoors.
G: Golf and cooking.
What is one goal that you are currently working on?
D: Pull ups. I think I will feel cool when I can do at least one pull up!!
Do you have a hidden talent?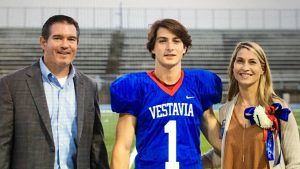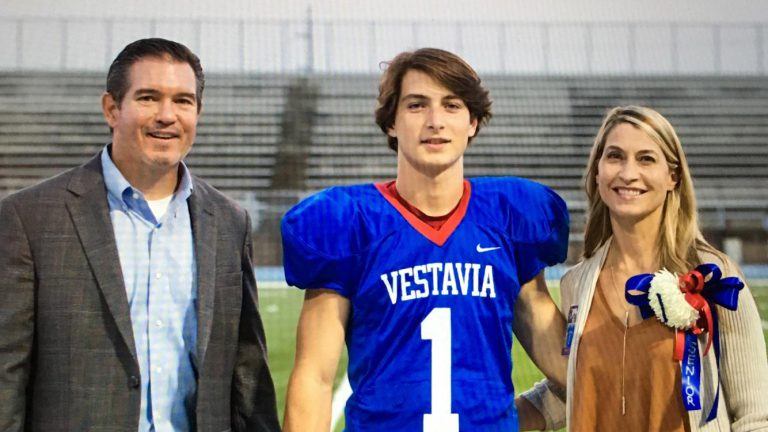 D: Not really. I sing. I've sung in choirs my whole life. Not very hidden though. Oh I do make the absolute best heath bar cookies!! Not Paleo or Vegan though.
G: I can recognize celebrities voices on television commercials.
Tell us a fun/interesting fact not many people know about you.
D: George and I were next door neighbors after college. That's how we met. One of my roommates at the time was totally in love with George, but obviously that didn't work out – for her! We on the other hand have been married 24 years! 🙂 Worked out well for me.