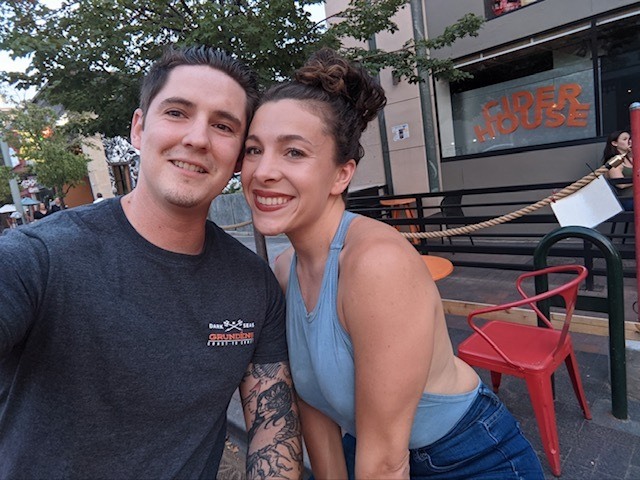 Members since:
May 2022
Where are you from originally?
Candice: I am from California! specifically Whittier, CA-that's located in Los Angeles County
Gage: Whittier, CA
What do you do for a living?
Candice: I am a deli associate working in the field for over 10 years now :0!! I also bartend 🙂
Gage: Meat cutter/butcher
How did you hear about CrossFit and what was your first workout?
Candice: I honestly wasn't that interested in trying CrossFit. Gage offered to pay for my classes, so that's what was my determining factor-hahah!
Gage: I had been watching the games back when it was in Carson, CA, and I wanted to get involved. The first workout I did with the whole class I think was Amanda and it made me question joining CrossFit.
How many days do you CrossFit? What classes do you normally attend?
Candice: I normally shoot for 4 days, but I will sometimes do 3 depending on my work schedule. I will go to the 11 am class if available or 4-5 pm 🙂
Gage: At least 3 a week. On a good week I like to get there 5 to 6. Just depending how my work schedule lines up. I don't have a set class I go to. It's kinda all over the place.
Favorite CrossFit movement/workout?
Candice: CLEANS!! I love doing any workout that involves cleans! Or DU (double unders).
Gage:  Anything involving pull-ups or body weight movements.
Least favorite CrossFit movement/workout?
Candice: Not a movement necessarily but kindaaaa…. maybe? But the bike 0/10. (editor's note: Good answer. Biking is considered a compound exercise in CrossFit)
Gage: Wallballs or the devil's tricycle (assault/echo bike).
What motivates you/keeps you coming back to CrossFit Mudtown?
Candice: I want to be strong enough to crush the heads of my enemies with my thighs.  Gage: The community and trying to beat old WOD times. CrossFit is amazing 'cause you can actually track your growth.
Most embarrassing/funniest gym moment?
Candice: When I fell off the pegboard. Only Gage saw, but I truly haven't laughed so hard.
Gage: Nothing comes to mind except the wife falling off the pegboard last week.
Favorite thing about Birmingham?
Candice: The food! Especially in downtown;so many options.
Gage: Favorite thing in Birmingham has been the slower pace of life and actually having some seasons.
What accomplishment are you most proud of (outside or inside the gym)?
Candice: Moving. It took a lot to pick up where you were born and raised and move across the country away from most of your family.
Gage: I would say I'm really proud of the fact that Candice and I picked up everything and moved across the country to out here in Birmingham. I got out of a really dark place in CA. Working 70 hours a week. I was barely making it to the gym, and my diet was really suffering.
What is your favorite meal?
Candice: How could you narrow it down to one thing?? I love all the food.
Gage: Burgers. Nothing wrong with a solid burger.
What are some of your interests outside of CrossFit?
Candice: I love to read! specifically thrillers and fantasy.
Gage: Well I do enjoy my work. I really do have a passion for butchery and cooking. My wife takes up a lot of time too.
What is one goal that you are currently working on?
Candice: Travel more. Plus, move up to assistant deli manager at work.
Gage:  Well I would like to get back down to my pre-pandemic weight. I'm always slowly working on a business plan to hopefully get my own butcher shop going.
Do you have a hidden talent?
Candice: Absolutely not. Any hidden talent I have I would immediately tell someone, and it wouldn't be hidden anymore.
Gage: I can identify any muscle or cut just by looking at it and tell you exactly where it comes from. Ranging from beef all the way down to small game.
Tell us a fun/interesting fact not many people know about you.
Candice: I am a klutz. i hurt myself so much that when I started to workout, my family truly was afraid for my well being.  I've had staples in my head, dislocated elbow, broken fingers, and stitches in my head from 3 different accidents. Not really fun but interesting hahah!
Gage: My up bringing was a little unorthodox. I was homeschooled all the way up to college. Actually attended college and culinary school at 16. My dad is a jewelry designer so I spent most of my younger years traveling-staying in Cali for a couple summers surfing.