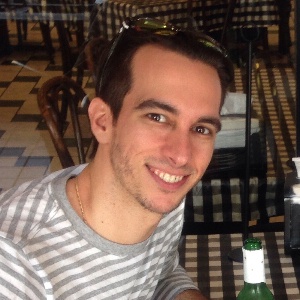 Give it up for our August member spotlight, EJ! Read below and visit the 8:15 AM class to get to know EJ better. EJ, we are so grateful that you are a part of the CrossFit Mudtown family.
Member since: December 2017
What do you do for a living?
I am a Customer Service (ticketing/gate) Agent for Delta Airlines.
How did you hear about CrossFit and what was your first workout?
I have a few friends who have been doing CrossFit for a few years now, and I've always been intrigued by it. I used to go to the gym, but never really felt a passion for the gym. CrossFit has awaken that passion of waking up and wanting to go workout. The coaches, the different routines, the music, the community, it all pumps you up for the rest of the day. I can't recall my first workout, but I did begin attending the WODs on the wk of the 12-days of christmas WOD. It was a DISASTER. I still couldn't differentiate which movement was the Clean, which one was the Thrusters, which one was the Snatch, etc. You can ask Mel, who was the coach of the class I attended that day; I kept on looking at her, all confused, every time I had to jump to the next movement for her to guide me through it. I felt a bit embarrassed at the time, but now it's really kind of like a funny crossfit story, I guess… HAHA!

How many days do you CrossFit? What classes do you normally attend?
I go between 4-6x a wk, although Jackie and Mel have recommended to not go more than 4, maybe 5 times (I just want to feel macho… HAHA!). I usually attend the 8:15 am or 9:15 am class. PS: miss you, Heather, Jenny and Brian.

Favorite CrossFit movement/workout?
I'm still working on getting better at this movement, but I really enjoy and would like to master the Snatch. Regarding the WODs, my favorites have usually involved deadlifts and/or pullups and/or snatches.

Least favorite CrossFit movement/workout?
My least favorite CrossFit movement are the Cleans, specially the Power Cleans.

What motivates you/keeps you coming back to CrossFit Mudtown?
The community and trainers, for sure. I appreciate how approachable the trainers are, and how well they work with me and my goals and accommodations.
Most embarrassing/funniest gym moment?
Please refer to the answer about my first workout. The 12-days of Christmas, on the very first week I started CrossFit, was embarrassing for me, and a bit funny, or annoying, to the other athletes, I would think. It was a pretty full class, with lots of equipment out, and I kept on jumping from movement to movement not knowing or differentiating which movement was which, looking at the board to see what I had to do next, looking at Mel so that she could guide me on what to do, and stepping other athletes' equipment and space. I feel I probably looked like a lost kid at a Black Friday sale.   

Favorite thing about Birmingham?
The trees and greenery. I also appreciate the variety of restaurants.

What accomplishment are you most proud of (outside and inside of the gym)?
I feel that I am barely beginning to set my path in life, as I believe it took me a while to mature and figure out my goals. I will share that in the 9 months I've worked for Delta Airlines I have been expressed in numerous occasions that I do an excellent job and that my department (ACS – Airport Customer Service) wants me to continue growing with them, vs switching to Inflight, which was my original plan.
Inside the gym I'm also currently working getting better on the different movements, and gaining more strength, but I feel proud of my consistency and the joy that's grown inside me for exercise and CrossFit. If I would've been told 5 years ago that I'd be this dedicated to doing exercise now, I wouldn't have believe it.

What is your favorite meal?
I can't just pick one, but, one of my ultimate favorite would be mofongo (made out of plantains) with mahi-mahi. Visit the Enchanted Island of Puerto Rico to try some mofongo; I promise you won't regret it.

What are some of your interests outside of CrossFit?
Interior Design and Diets. I enjoy gazing through interior design magazines and stopping by the different furniture and fixture stores. I also enjoy watching food network, documentaries about food and diets, and reading about the topics.
I also enjoy going to the beach, very much.

What is one goal that you are currently working on?
My career. Inside the gym I'm also trying to work on gaining more strength so I can finally do an Rx in the near future.
Do you have a hidden talent?
If I share, then it wouldn't be hidden anymore… HAHA! *winks*
Tell us a fun/interesting fact not many people know about you.
Well, I'm not sure how many trainers and/or athletes at CF Mudtown know this, but I was born and raised in Puerto Rico and my first language is español. The main reason why I applied to the Airline Industry was to find a way to make it easier to visit my family and enjoy the enchantment of my Island, but luckily enough I feel I have also found an industry and career I'm feeling very passionate about.
On a funnier side, I used to be chubby when I graduated HS and throughout my college years.