As we wrap up our 1-year anniversary celebration of CrossFit Mudtown there is so much to reflect on! We have not only grown as a gym and community but each of you have grown in some way through CFM. So many new friends, new PRs, new adventures, and more. We can't wait to see what year two holds for us all. To remind you of all your greatness and achievements I wanted to recap the year month by month, event by event, PR by PR. Hopefully after looking over all you have done it will inspire you to go bigger this year!! Thank you for allowing us to do what we love and for being a part of our community!
Year in Review 2015-2016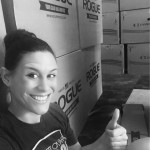 March
– We sign CrossFit affiliate papers. Snag a building in Cahaba Heights. Order a ton of equipment. The gym is coming to fruition!
April 
– The doors of CrossFit Mudtown officially opened! So many people helped make this gym a reality! From painting, stopping in to help move things in, watching our children, and just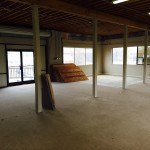 being there to say 'it looks good!" we appreciated the support.
– We ran our first official workout that was open to the public at CFM. Everyone did Cindy.
May
– CrossFit Mudtown continues to grow its members and classes are starting to fill up!
– Conducted our first OnRamp beginners class.
June
– We held our official grand opening party that included a workout to anyone who wanted to join in on the fun! We did Fight Gone Bad and had support from family (who all traveled), old members, new members, and (old and new) friends.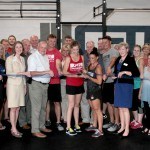 – Jacki also competed in the Wodlife Summer games and it was her first competition as a Muddy!!
July
– We continue to grow and new members are joining almost daily!
– The Vestavia Chamber of Commerce conducted a ribbon cutting ceremony welcoming us as a new business in Vestavia Hills.
August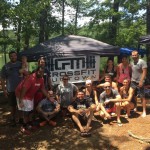 – Nine athletes competed at the local competition Mayhem in the Mountain at Oak Mountain State Park. We had 3 teams, and 1 individual compete. Lainey, Alisha, Kelly, and Melinda led the ladies of CFM in a team. Danny, Nick I, Patrick, and Nick S were on a RX team and Clay, Leroy, Evan, Brian were on a scaled team. I was our RX individual athlete. Despite the heat we had more support than we could ever ask for! We had a tent set up and it was packed with friends and family throughout the day.
September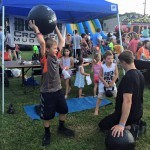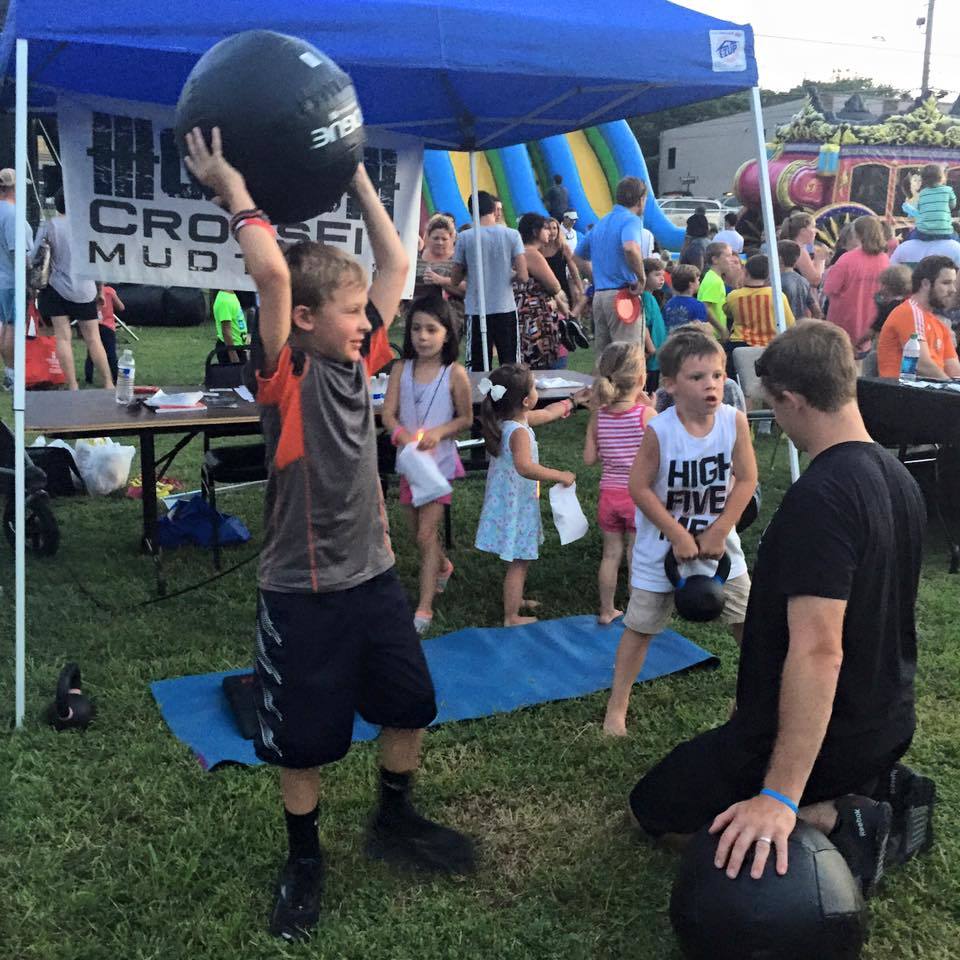 – We ran a kids workout for Kaidyn's birthday and the coaches set up an obstacle course in the main work out area! The course included box (plate jumps) jumps, zig-zag sprints, tumbling, burpees, and much more!
– The gym sponsored a fun family event in Cahaba Heights called Back 2 School in the Hills. We had people try out equipment and chat more about CrossFit.
– A group of us participated in a service day hosted by the Vestavia Chamber. We picked up trash along Cahaba Heights Rd.
October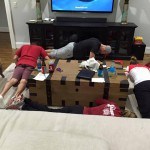 – The push up challenge left everyone at CFM with sore shoulders and better push up form! We challenged the members to do 3 ,000 push-ups this month. These push-ups could be done in any number amount anywhere you wanted! The winner of the challenge was Brian Warwick, but everyone that signed up completed the challenge!!
– Halloween was fun with a costume and pumpkin wod! After the workout we continued the fun upstairs with a party and pumpkin painting for kids.
– Jacki and a member of CrossFit Irondale competed in the Grid Iron games hosted by CrossFit Gardendale. They placed first in the competition.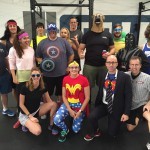 November
– CrossFit held its first annual Lift Off event focusing on a 1 Rep Snatch, 1 Rep Clean and Jerk, and 1 Workout. This was set up like the CF open and we had many of our athletes register and participate.
December
– While the kids were on Christmas break we held a Mudtown kids class again! This workout included sled pushes and DL. The kids learned about healthy food choices using myplate.org. They enjoyed heathy fruit and cheese snack after the lesson.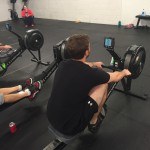 – Coach Billy rowed 1 million meters in 2015!!! With the help of some friends he finished up his year-long goal at CFM!
January
– Kristen Skinner and Nick Smith competed in their first Olympic Lifting competition in Georgia. Nick placed 1st and Kristen 2nd in their respective weight classes.
– There was also something in the water at CFM because Jacki and Melinda announced they were pregnant and Nick Irvin announced he was going to be a daddy! (again)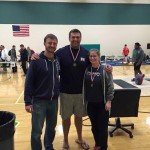 February
– We had several athletes compete in the Wodlife Winter games this year. Jacki was on a team with a few girls from CrossFit Chelsea and CFM had 1 team of 4 compete. Danny, Clay, Brian, and Tyler did an awesome job representing CFM! Once again the CFM crew traveled and we were supported very well!
– We also had several athletes compete in the Tuff Love competition hosted by CrossFit Irondale with proceeds benefiting Christfit. Jacki and Sloan (from The Farm) Competed on an RX team as did Coach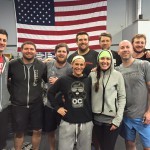 Danny and Coach Billy. Danny and Billy both hit huge PRs on the hang snatch and hang clean. Tyler and Brian did an awesome job battling through the WODs as did Clay and Nick! How can we all forget Clays "trip" that lead him to the scare of a lifetime!!
March
– The OPEN!!!! CrossFit Mudtown had over 35 members register and complete the Open this year and we could not be prouder! For 5 weeks we excitedly (some) waited for Dave Castro to dish out our poison. So many of you reached PR's or completed movements you had never done before! There was lots of screaming, tears, and more high fives and hugs than we can count!!
-While the kids were on spring break we held another Mudtown kids class! The kids enjoyed a fun workout and healthy snack!
– The Assault Bike Gang was formed. Ride hard and fast my friends!!
– Mudtown Barbell was formed (hoping to get this on the regular schedule soon)
April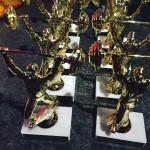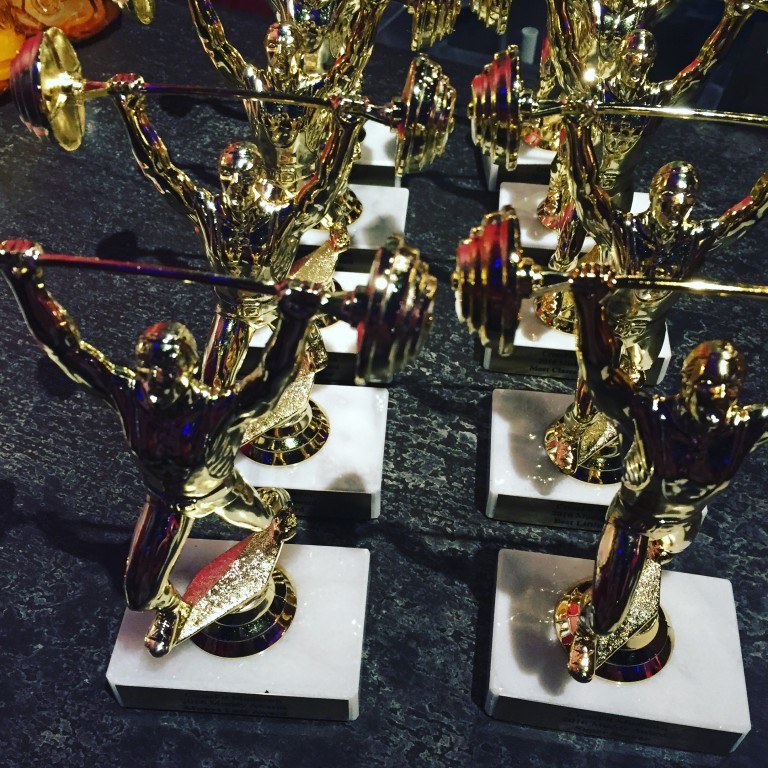 – Member appreciation week was April 25-30th. It was fun to see all our members being treated special and participating in everything we had going on that week.
– We hosted our 1st anniversary party and 1st Annual Muddy Awards. This was such a fun night and we can't wait to do it again next year!
Wow! What a year. Looking at the goal board so many people have improved or were able to check something off their goal list this year! From getting a HSPU, PU, or DU, to hitting a new Clean and and Jerk PR, or a new FGB score, big goals were met.
We hope you all have had as much fun as we have and will continue on this crazy awesome ride we call functional fitness! Cheers!!